Share this URL: https://ips3.peatix.com/
Event is FINISHED
The 3rd JrSr International Physician Seminar
↓↓↓各講師のセッション内容をこのページ最下部に追加しました↓↓↓



The 3rd JrSr International Physician Seminar for Students & Residents
第3回 JrSr 国際教育者による学生・研修医セミナー

THEME:"Japanese medical education; challenge to the USA and to AI in future".
「日本の医学教育:アメリカへの挑戦、AI未来への挑戦」

The unique strengths of this seminar include 1) international passionate clinician-educators living in Japan, 2) small group interactive sessions ( including USMLE mock oral interview), 3) emphasizing basic clinical skills (history and physical) and communication skills, and 4) potentially an excellent step to the US training.

The key for success of this seminar is not JrSr, not teachers but it is yourself. You should and can enjoy the seminar by discussion, communication and participation in the seminar, by teaching and learning each other, and by making many friends. Do not hesitate to speak up, let's stand up, and participate. It is your seminar for improvement, globalization, prosperity and dream for your future career and your life.

セミナーの特徴
1)日本の国際的な医学教育に多大に貢献する講師
2)少人数制の高度にインタラクティブなセッション
3)病歴・身体所見の取り方など、基本的な臨床能力、コミュニケーションスキルの習得
4)臨床留学を目指す、あるいは国際標準の医療を志す医師向けの内容
※講師は日本語も多少わかる方もいますが、講義は英語で行われます。
このセミナーの主役は参加する皆さんです!セミナーでお互い議論し、教えあい学びあい、多くの仲間を造り、将来のゴールや夢の達成に向って自身の国際化・能力の向上に役立てて下さい!!

【講 師】

◆Joel Branch, BSc, MB BS, MRCP (UK)
Director of Internal Medicine Education & Simulation Skills Training, Shonan Kamakura General Hospital
言わずと知れたSyo-Kamaブランド教育系ドクター、今回も臨場感と緊張感たっぷりの楽しいSP道場開催!

◆George W. Meyer, MD MACP MACG
Clinical Professor of Medicine, University of California at Davis School of Medicine
"技術がどんなに進歩しても、人間のH&P examには代われない"
研修プログラムディレクター等も歴任してきたPGY52の言葉の重みはすごいです。
今回は次のGraham先生と一緒にfacilitateしてくれます。

◆Graham I. Warden, M.D., C.P.E.,
Lieutenant Colonel, United States Air Force Commander, 374th Medical Operations Squadron; Executive Sponsor of Yokota Japanese Physician Fellowship Program, 374th Medical Group, Yokota Air Base, Japan
MITから味の素。異彩な経歴を持つ横田の放射線系educator。gastroenterologyとradiologyを題材に症例プレゼンのmethodologyを快活に伝授!

◆Carrick Burns, MD, FAAD
Executive Program Director, Japanese National Physician GME Program
USNH Yokosuka
横須賀で教鞭を取る、家族を愛する皮膚科系educator。数々の日本人研修医を教育してきた先生の視点は目から鱗。


◆Ivor Cammack, MBChC, FRNZCGP
Co-Director Residency Training Program, Teine Keijinkai Hospital
General Practitioner, Niseko International Clinic
UK生まれ、医師になる前は様々な職を経験し、世界をめぐって最後はニセコに惚れたスポーツマン。
鑑別診断に役立つ医療アプリと有効な使い方をさわやかにお届けします!

【14時以降の討論参加者】(予定)
武田裕子(順天堂大学)他


【コーディネーター】
Junji Machi, M.D., Ph.D., F.A.C.S.
Professor of Surgery;Director of Japanese Affiliated Programs, Office of Global Health & Medicine, JABSOM, University of Hawaii; Founder, JrSr Corporation
JrSr創立者。自他ともに認めていますが、日本の医学教育への貢献、後進のサポートしか考えておられないようです。
やわらかい笑顔の下には何よりも堅い決心が隠れています。
午前中は講師が4組に分かれ、並行してセッションを行います。参加者は1日で4つすべてのセッションを受講できます。

午後の参加者全員によるディスカッションでは、国際的な視点からの日本の医学教育に関しての議論(特にAI時代の医療を実践する皆さんたちへの教育)、将来アメリカや世界に羽ばたきたい皆さんが今からすべき事項、事前に収集した参加者からの質問に対する応答などを行います。最後に講師と自由に話が出来る個別のミーティングの時間があります。
【当日タイムテーブル】
0800-open 
0830-0900: Welcome remarks and self introduction
0900-1200: Small group Cyclones (50 min session X 3 rotations in the morning, 10 min break between)
1200-1300: Lunch
1300-1400: Small group Cyclone (4th)
1400-1500: Open Discussion/ Q+A
1500-1600: Informal meeting (in group of each teacher or person-to-person)
【会 場】順天堂大学センチュリータワー北6階 〒113-0033 東京都文京区本郷2丁目1−1

【定 員】40名(学生・初期研修医・後期研修医)
また、指導医・教育者の方のオブザーバーとしての参加も5名ほどまで受け入れます。オブザーバーは会期中の部屋の移動が自由となります。ご自身で次回以降講師として参加したい方なども、これを利用して一度様子を見にいらしてください。
※Doctor who wants to be a future facilitator may join with an observer ticket.


【参加費】医学生6000円、医師8000円、オブザーバー8000円
参加費は本ページより、クレジットカード払いあるいはコンビニでの払い込みとなります。
※受付では、名札をお渡しする関係上お名前を伺うので、特にE-ticketの提示は頂かなくて大丈夫です。


【締 切】3月10日あるいは定員に達し次第


【主 催】一般社団法人JrSr
【共 催】順天堂大学医学部
【後 援】ハワイ大学医学部
【事務局】一般社団法人JrSr  伊藤きよ枝
〒104-0061 東京都中央区銀座1-20-14銀座NKビル8F 
電話:03-6825-8008(月水金1000-1700) FAX:03-3538-3552 
 Email:jrsroffice@jrsr.or.jp
 ※お問い合わせは日本語で大丈夫です。

※諸注意※
・キャンセルによる払い戻しは3月10日までとなります。
3月10日以降のキャンセルはご返金しかねますが、配布資料などは後日お送りいたします。
また、代理の方の出席も可能です。代理の方は当日お申し出ください。

・領収証はpeatixの領収証で代えさせていただきますが、施設への提出などのため、弊社からの領収証が必要な際はお申し出ください。
★peatix help 領収証について https://help.peatix.com/customer/ja/portal/articles/221024


【以下、各セッションの内容です】
THEME: Simulated Patient Scenarios
FACILITATOR: Dr. Joel Branch
CONTENT: Participants (You!) must race against time to obtain the history and physical examination from the simulated patient (SP) - Dr. Branch - in English! You must use your skills in history taking, physical examination and clinical deduction to ascertain the diagnosis and start life-saving treatments - all within the allotted time. The SP is not going to make it easy for you! Can you get the diagnosis and start the life-saving treatments before the time runs out? Each session will have a different diagnostic challenge!
WHAT YOU LEARN:
·Learning colloquial English medical words that Western patients will use and understand.
·Development of effective communication skills with Western patients.
·Understanding that the use of a Review of Systems sheet can speed up the history taking process, especially when the patient does not mention additional symptoms.
·Appreciating how a Western physician thinks in order to make decisions about patient care with few results available. This would apply when patients may be critical, and when emergent treatment is essential.



THEME: Case based presentations and discussion with emphasis on differential diagnosis methodology, pathophysiology, and ethics
FACILITATORS: Drs. George Meyer and Graham Warden
CONTENT: Interactive case presentations involving gastroenterology and radiology.
We hope to be able to help guide interested students and physicians to help them successfully get to the United States!



THEME: Applied Medical Interviewing in English
FACILITATOR: Dr. Carrick Burns
CONTENT: coming soon!



THEME: Essential Apps for your Medical Education – And how to use them!
FACILITATOR: Dr. Ivor Cammack
CONTENT:We will introduce you to some simple apps for your phone or tablet, which you can download and start to use immediately to help you learn more from your patients.
Using a case-based approach, we will use these apps to discover more about your patient, extend your differential diagnosis, understand their condition better, and record notes which you will never lose. This will be an interactive session. Usually during class, it's rude to use your phone – this time we will encourage it!
Medicine is about lifelong learning, and the sooner you can develop some of these habits the better. With easy access to our phones, we can use these powerful tools to our benefit. The age of AI is here – medical education in Japan may be old fashioned, but you can enter the 21st century on your own, and start making use of the technology available.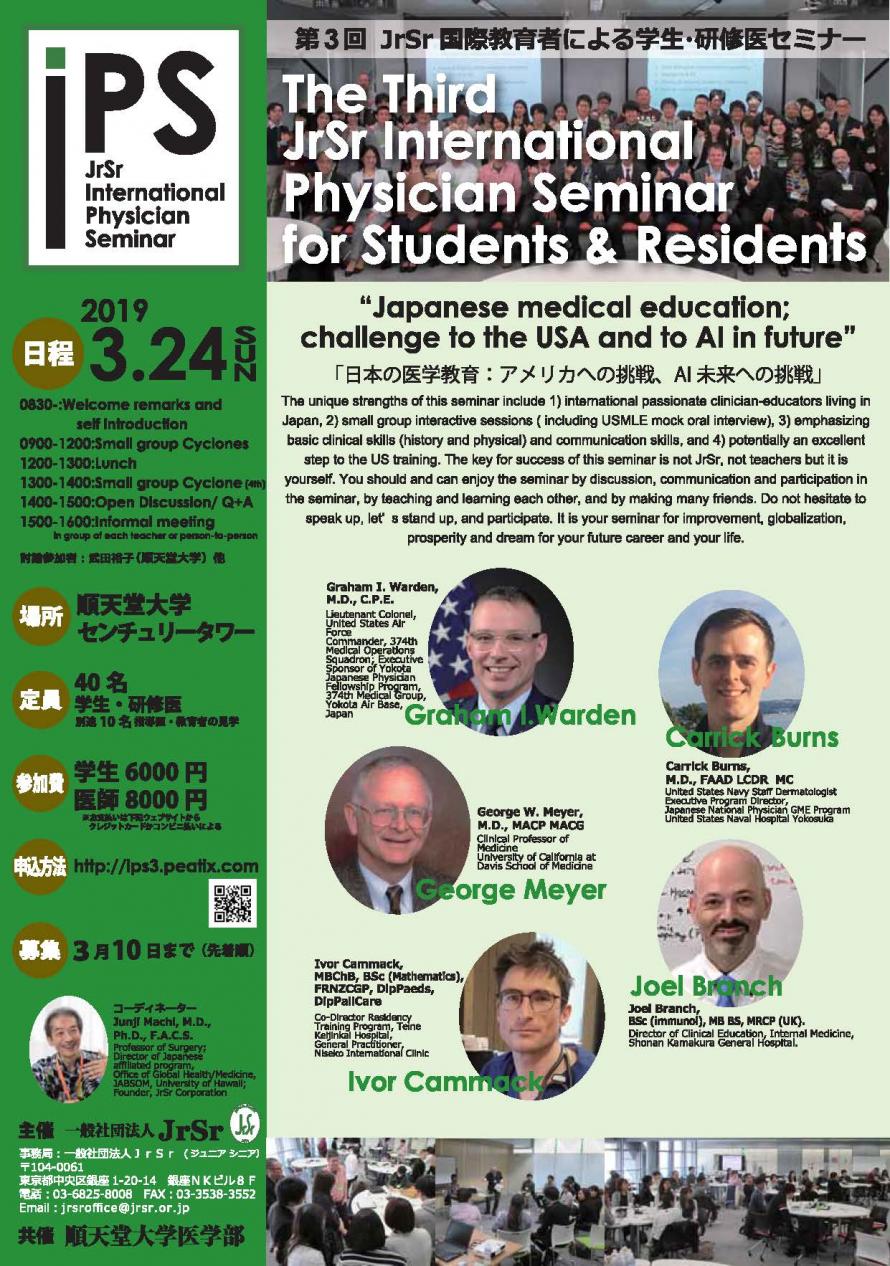 read more
Updates
イベント詳細情報を更新しました。 Diff#408076

2019-02-08 08:04:23
More updates
Sun

Mar 24, 2019
8:30 AM
-
4:00 PM
JST
Add to Calendar
Venue

順天堂大学センチュリータワー
Tickets

医学生

SOLD OUT

¥6,000

医師

SOLD OUT

¥8,000

オブザーバーとして参加

SOLD OUT

¥8,000
Venue Address
Organizer
Want to find more groups and events like this?